If you are about to accept an offer for teaching in Vietnam, you will typically be employed in one of three possible settings: 1. public school, via a language center or a headhunting agency that acts as an intermediary between you and the school, 2. English center classes, or 3. international schools or academies.
Schools versus English centers
1. Where to work?
You might assume that the last option seems to be the most ideal, which is true, however the higher benefit always comes with greater responsibility, which means it will involve higher expectations from parents, meetings and feedback. The International Schools with CIS standard even set the bar higher with pages of requirements on expertise, qualifications as well as degree. So that's why today we will only discuss the pros and cons of teaching at the first two options, as we mentioned before.
2. What to know about teaching in Vietnam?
The first difference between these two institutions is the flexibility of the working schedule. Public/ private schools usually only ask you to teach in a few periods (1 period = 45 minutes) on a daily basis (usually daytime), and you can always have some rest or go somewhere in your spare time/ right after classes, while English centers often have much denser teaching hours. You will also be assigned as the teacher in charge of several classes, which range in different ages and levels. Along with longer hours of lesson preparation, you will also have to keep a close track with your student ability and performance.
However, English centers always make sure that your working process and teaching experience are as comfortable as possible. Facilities (in medium and large centers) are always ensured to be advanced. Their professionalism is also a big plus, not to mention that the small number of learners also make your lessons be deployed in a more diverse and complete way compared to teaching in the large-sized classes of 30-40 students like in public schools.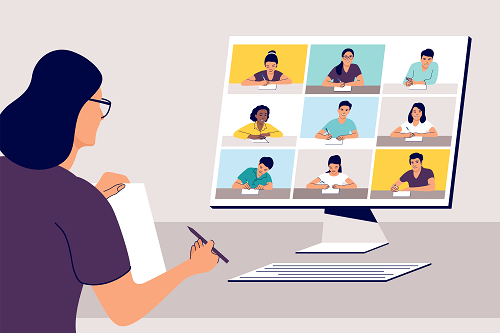 3. How to adjust your teaching style to different working environments?
A. Teaching in Vietnam: public/ private schools
From my personal experience, teaching at schools in Vietnam is quite inconvenient compared to teaching at English centers. For classes at schools in general, the class size is, in most cases, the major challenge for teachers. You can barely play games or do physical activities indoors due to the lack of room, and somehow the big number of students also seems to be giving you troubles. So here are some advice on how to deal with a large-sized class as below.
Learn all their names. It's a difficult task but it's crucial to make sure not to show them any signs of you being suffocated or overwhelmed by the situation. It would be a great idea to tell them to create a name tag for themselves, which works both ways as they can have some fun while making them.
Try to speak loudly and keep the instructions short
Utilize pairwork and teamwork activities to have a better management over them
Followings are some suggestions of games for teaching at private/ public schools
Board games- students are often into games, especially games that they can play with other students in class. Find some printable games to advance your student's experience and practice in the classroom!
Word association games- this game is able to be conducted no matter how many students you can have in one group. It will get even more exciting when you set a timing rule while playing.
Chinese whisper game- a really fun game that is easy to be paired with any types of practice within the classroom. You don't even have to make the students sit in a group by turning around whatsoever, as this game is generally played in rows from back to front.
Group presentation- a classic form of team work that plays an important role of any child's practical skill development.
Snowball fight- in case, for some reasons, you haven't prepared ideas for practice activities, this game would be a life-savior. Let them have some fun throwing paper balls around and answering questions/ making a sentence, based on the information inside the balls.
You can also check out other articles of us to find more teaching tips and classroom tricks to better engage your students in the lesson here.
B. Teaching in Vietnam: English centers
If you want to be fully committed to the career of teaching English in Vietnam, a language center is where you belong. However, there are numerous English centers from the professional to the ''so-called'' ones, so make sure you do some good research on them before considering being a part of it. A quality English center consists of these criteria below
Good facilities including air-conditioners, a projector, white board, toys and tools (for kid classes), a computer, a teaching assistant, good sets of table and chairs, mattresses (in case you need space for some physical activities), nice wall decorations, and a sufficient source of teaching supplies ready to be used
Transparent payment and bonus policy, it doesn't have to include lots of benefits or perks, just make sure that you always know who to speak to or what department/ individual is responsible for whatever the problems that may occur regarding the above matter
Good management system both online and offline
A quality working office machinery set such as a printer, scanner and good storage equipment.
Another significant feature of a good English center can also be spotted by the recruitment criteria and the feedback people make about them on online forums and discussion groups. A good center would have a high-standard in hiring their teachers since they have to maintain their reputation and education quality. Nevertheless, you can also find out about what those centers are really like by joining online communities and threads about teaching English in Vietnam, so that you can have the most genuine overview of them before taking up a teaching job in Vietnam.